Village de Jardin Apartments
The project consisted of multi-family senior housing including individual houses, (6) 8-unit townhouse buildings, and (2) 5-story apartment complexes.
Crumb Engineering designed all the mechanical, electrical and plumbing systems. This project represents the largest project designed by Crumb Engineering, LLC, to date.

The traditional neighborhood concept was utilized to offer services and supportive housing, which enables residents to live well and age in place, with a main street allowing for a pedestrian friendly environment. The total development is 11.4 acres in size with a total of 224 living units.


University of New Orleans East Campus Central Plant Upgrades


This work consisted of two phases with replacement of the emergency generator and heating water system performed under phase 1. Under phase 2 the cooling towers, condenser water system and control air systems were replaced.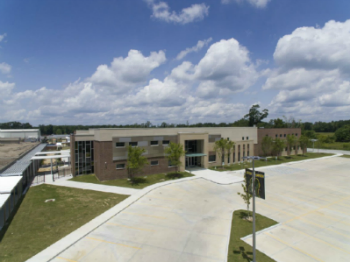 St. Amant High School Freshman Academy
The project consisted of a 60,000 square foot two-story classroom building, cafetorium, kitchen and central utilities plant. Crumb Engineering designed the mechanical, plumbing, electrical, theatrical sound and theatrical lighting systems.
St. Charles Parish Lafon Performing Arts Center
The project consisted of a 1600 seat auditorium with support spaces, a black box theater and a two-story arts and crafts classroom building. Crumb Engineering designed the mechanical and plumbing systems.

University of New Orleans Lakefront Arena


The 10,000 seat arena was devastated after Hurricane Katrina. Crumb Engineering's first responsibility was the arena cleanup and seat removal, then the theatrical sound, lighting, scoreboard and main arena mechanical systems were repaired and replaced to make the arena functional. Work is on going with replacement of the theatrical fly systems currently under design.
Phyllis Wheatley Elementary School

The design for this new Recovery School District 98,000 square foot school consisted of classrooms, a library, a cafeteria, and a gymnasium building with an NC 25 Gymnasium HVAC system and large choral and music rooms with NC 25 HVAC systems. The project utilized state of the art indoor air quality controls and is set to be LEED silver certified.
UNO Main Central Utilities Plant Renovation
This project involved converting the entire plant from primary-secondary pumping to variable speed primary pumping. In addition, the owner desired new controls for the plant and a new chiller.
Xavier University Underground Piping Replacement
This project replaced the chilled and heating water piping to the Library, Old Pharmacy, Pharmacy, Music and Administration Buildings.
Xavier University KD Hall HVAC Replacement

The existing HVAC systems were replaced with new systems including humidity control and building pressurization.
Xavier University Living Learning Center

The existing PTAC systems were replaced with energy efficient VRF heat pump systems and a dedicated outside air unit to control humidity and building pressurization.
Xavier University Chiller Replacement
This project provided a new 2500-ton water cooled chiller and cooling tower to serve the entire campus and provide cooling system redundancy.